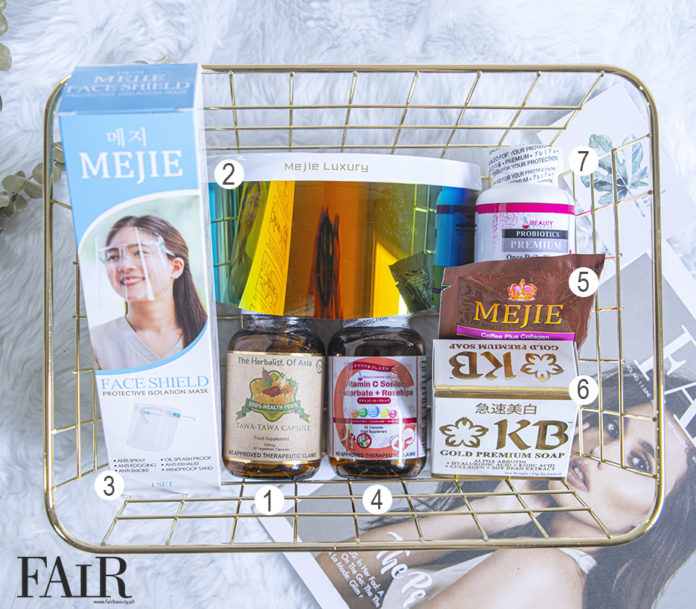 By | Flor Leano
There is still an unseen threat out there. We've changed our work routine and we can't have weekend getaways. Staying at our favorite coffee shop for as long as we want is also impossible nowadays. Well, it's time to face reality. COVID-19 is here to stay until the vaccine is available. In the meantime, there are ways to keep ourselves safe from the virus. Here are new normal essentials you need to have so you can save a lot of money from tests to hospitalizations.
THE HERBALIST OF ASIA TAWA TAWA CAPSULE (FDA APPROVED)
The humble tawa tawa (​Euphorbia hirta)​ is now a celebrated The Herbalist Of Asia supplement containing ingredients that can rescue you from different health problems such as heart disease, diabetes, and allergies. Students of the University of Sto Tomas (UST) – Faculty of Pharmacy proved that it reduces cell bleeding and speeds up clotting making it an ideal supplement against dengue. This study was confirmed in an article published in the World Journal of Pharmaceutical Research stating that tawa tawa contains Quercetin, a plant polyphenolic flavanoid that possesses potent antiviral property against the dengue virus. But Quercetin is not just effective against dengue. MedPage Today disclosed that in 2016, rodents administered with Quercetin before being exposed to Ebola virus survived, and after the 2003 SARS-CoV-1 coronavirus outbreak, researchers in China found that Quercetin interferes with its ability to infect host cells.
2. MEJIE LUXURY EYE SHIELD
Lifestyle and fashion have dramatically changed. That is why Mejie Luxury Eye Shield offers multi-purpose features that can give you a cool and fabulous look whether you are out for a morning bike or you are driving to pick someone up. But at the same time, it provides superior eye protection not only from the UV rays that can cause damage but also from the current deadly virus we know. In the new normal, eye shields are already a must. Dr. Thomas Steinemann, clinical spokesperson for the American Academy of Ophthalmology says that it's likely possible to get infected from COVID-19 through our eyes. So, before leaving the house, be wise enough to wear Mejie Luxury Eye Shield so you don't have any reason to regret.
3. MEJIE FACE SHIELD (WITH FDA LICENSE)
Wearing a face shield is already required in the new normal and medical practitioners believe that it can prevent further spikes of Covid-19 infection. Mejie Face Shield is not an ordinary face shield. It has FDA approval so the materials it is made of can truly provide full-face protection against the virus. If someone sneezes or coughs, Mejie Face Shield can effectively prevent the viral droplets from reaching the mouth, nose, and eyes—the portals of COVID-19.
4. SODIUM ASCORBATE AND KB ROSEHIPS VITAMIN C

Sodium ascorbate is a form of ​Vitamin C that is more available and tummy-friendly. It helps in healing wounds and maintains healthy bones, teeth, skin, and cartilage. It is also a potent antioxidant that keeps the cells healthy and promotes healthy aging while preventing cancers and heart disease. It strengthens the immune system and protects the body against infection by encouraging the production of white blood cells known as lymphocytes and phagocytes. Vitamin C isn't only found in orange juice or lemonade. In fact, it is abundantly found in Rosehips which come from the blooms of a wild rose variety called ​Rosa canina​. Research shows that Rosehips have 20 times more Vitamin C than lemon. KB Rosehips contains natural rosehips and can be taken to keep the body away from a viral infection such as colds, cough, and flu.
5. MEJIE SLIMMING COFFEE PLUS COLLAGEN
Mejie Slimming Coffee Plus Collagen lets you start your day right. A warm cup of Mejie Coffee contains L-Carnitine known to boost energy so you are ready for all the challenges at work. It also has Collagen that ensures having luxurious hair, young-looking skin, and strong muscle and ligaments. On the other hand, the Green tea in Mejie Coffee bears potent antioxidants known to fight free radicals that damage cells leading to premature aging.
6. KB GOLD PREMIUM SOAP
Frequent hand-washing is a good habit you should get used to these days. But once you noticed that your everyday hand soap has already made your hands dry and rough, you have to try KB Gold Premium Soap. You have always loved it because it can make your face fairer, younger and smoother because it has Alpha-Arbutin and hyaluronic acid. If it can do wonders to your face, it can also make your hands super soft and smooth. Not only that, washing your hands with KB Gold Premium Soap protects you from unseen health risks because it contains Vitamin C and Kojic Acid that both contain anti-viral and anti-bacterial properties.
7. IBEAUTY SCIENCE LAB PROBIOTICS 50 BILLION
One of your best allies for a healthy lifestyle is iBeauty Science Lab Probiotics 50 Billion \. Probiotics are commonly known as good bacteria and promote a healthy digestive tract. These live microorganisms prevent leaky gut that causes diarrhea, bloating, skin diseases, and joint pains. These may also help in boosting the immune system. Various research findings show that probiotics indeed increase our antibodies. With probiotics, our body becomes more prepared to fight off certain infections including the common cold. And, if you do catch a cold, probiotics can reduce the severity of your symptoms and shorten how long they last.