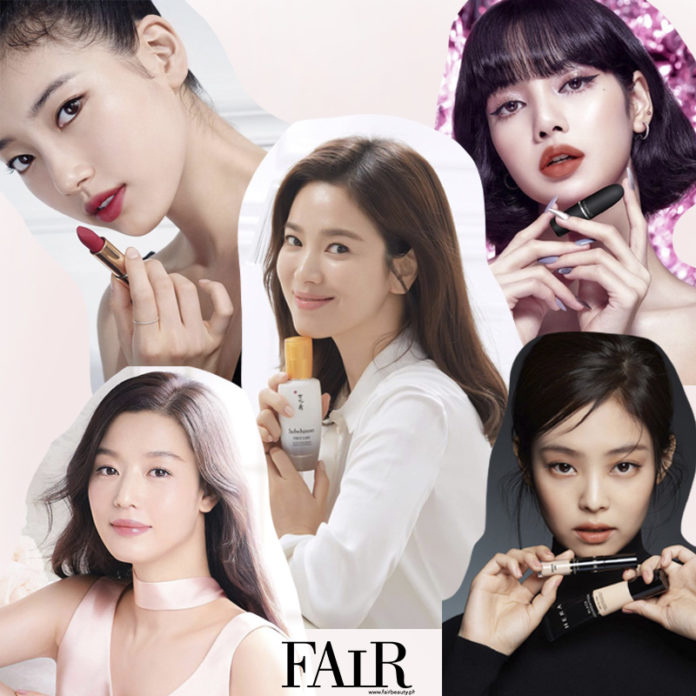 By Kristina Dabi
There is no denying. Halyu wave is taking over the world. Ladies all over the world are caught up in the world of K-pop, K-drama and K-variety shows. Korean actresses make us want their natural and bubbly make-up look when they appear in their dramas or when they guest in variety shows. Meanwhile, the chic look of our K-pop idols are truly make-up goals. Most importantly, we can't help but wonder our favorite Korean celebrities' skincare.
There are lots of famous Korean celebrities. If you're looking for an advice who among them should you start following when it comes to make-up and skincare, well we got you covered. Here is our list of Korean Celebrities to lookup when it comes to make-up ideas and beauty regimens.
Song Hye-Kyo. Does she really turn thirty-nine years old this year? Because her youthful look says she is only twenty. Song Hye-Kyo endorses a number of beauty products from Laneige to Sulwhasoo. The beauty products she endorsed sure does enhance her already gorgeous and angelic face. And we ladies also want that!
Bae Suzy. From being an idol to actress, her beauty has always caught the eye of citizens all over world. Currently, you can catch her beauty and style in the K-drama "Start-up". She endorses a lot of beauty products from Lancome, The Face Shop, Kerasys, and Dashing Diva. No wonder her skin looks beautiful and her make-up style so gorgeous.
Jun Ji-Hyun. The Queen of Korean Romantic-Comedy and Melodrama deserves a spot for this list. You probably got curious what beauty products does she use after watching the movie My Sassy Girl, or from K-dramas My Love from the Star and Legend of the Blue Sea. Jun Ji-Hyun not only endorse Hera, but she really does use Hera's beauty product.
Jennie Kim. Who wouldn't want to go solo when Jennie just sang about it? It's hard not to be influenced by this young diva and be inspired by her chic looks. Also, her skin looks unbelievably smooth like a baby. You probably know her as one of the members of the No.1 girl group of 2020, Blackpink. Like Jun Ji-Hyun, Jennie is the face of Hera.
Lisa Manoban. Give way to the Queen. This tri-lingual, multi-talented artist who dances, raps, and sings well is the most followed Blackpink member in Instagram. Her signature wing-tip eyeliner are goals. Any make-up style suits her. No wonder she is the newest global brand ambassador of Mac Cosmetic.
There are a lot more Korean Celebrities to admire when it comes to make-up and skincare. However, the ladies mentioned above are the most influential these days. We can take a leaf or two from their notes and apply it to our personal skincare and make-up goals. Taking care of ourselves is important. Using beauty products is not an act of vanity nor selfishness. It helps us appreciate more the beauty that we all have!