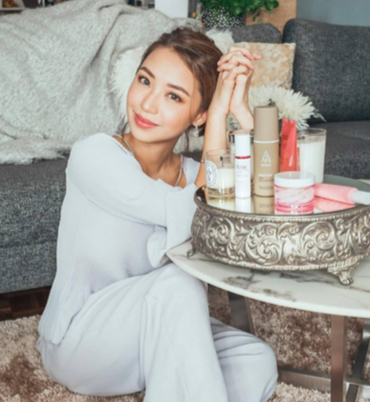 words | flor leano
POSH AND BUBBLY, KRYZ UY KEEPS A STEADY STRING OF FOLLOWERS AND HER BEAUTY, TRAVEL AND FASHION POSTS ALWAYS GET THOUSANDS OF VIEWS. Thirsty thought, her blog, simply started as a school project in 2009. But now, it has inspired countless young women to follow their dreams amid challenges and tough competition. Her picturesque life keeps everyone interested, especially when she recently got married.
While most successful people often lament being unlucky in love, Kryz found her true love in the person of Slater Young, a Filipino-Chinese actor, engineer, model and television personality who became popular for being a winner of Pinoy Big Brother: Unlimited.
Fair Magazine interviewed Kryz to take a peek into her beautiful world. Read on and pick insights as we did.
1. What makes Filipino women stand out anywhere they go? Genuineness.
2. When traveling, what skin care products a woman should always have? Cleanser, Toner, Moisturizer, SPF
3. How do you keep your skin beautiful despite a busy schedule?
I always make sure to cleanse, hydrate and protect! No matter how tired or lazy I feel, it's very important for me to do all these steps for my skin.
4. What made Thirstythought become very successful?
It's authentic and a labor of love. I do it for no other reason, and I guess it translates to my audience.
5. What do you enjoy most as a beauty blogger/vlogger?
I love sharing my knowledge, learning new things and interacting with so many people through my platforms.
6. What kind of diet works on you?
I don't diet but I am pescatarian. (Note: A pescatarian is someone who does not eat meat but does eat fish.)
7. What are inside your everyday makeup kit? Concealer, blush, eyelash curler.
8. What makeup products and tools should women invest in? It depends on your lifestyle.
9. How do you describe your fashion style? Playful, effortless
10. What do you consider when you buy clothes? Quality, style, fit, cost
11. Who are your favorite fashion designers? Marchesa, Elie Saab
12. What was the most important lesson that you learned being a student of Luxury Brand Management?
The history behind each brand and how important marketing in.
13. What success tips would you like to share with those who would like to become a beauty blogger like you?
Be yourself first and foremost. Be genuine and have integrity.