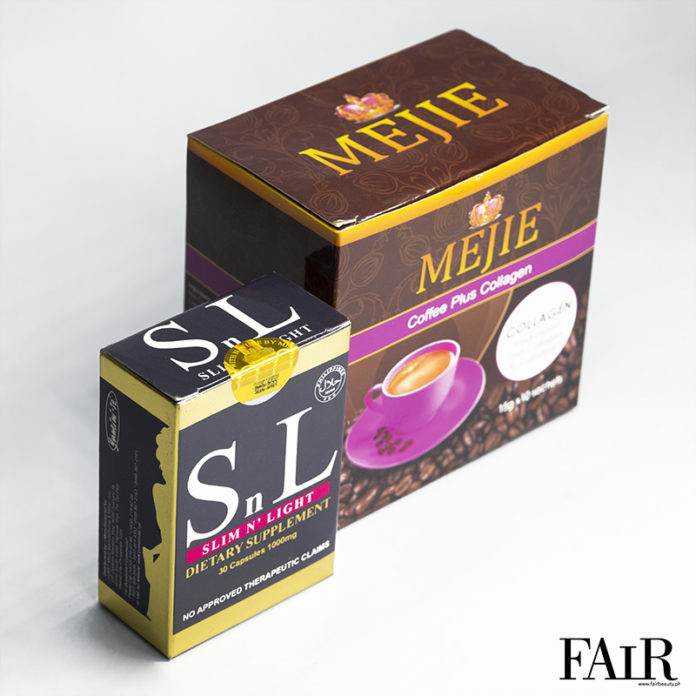 They stay-home regulations must have given most of us the license to indulge in sweets, carbs and junk food. And the heat made us crave for icy soda, creamy home-made milk teas, and unlimited coffee mixes. Now the reality sets in… your weight dramatically increased. You want immediate results because you don't like what you see in the mirror anymore and might even need new clothes. While all fitness centers are still closed, you can look fab and slim again with Mejie Slimming Coffee and Slim n' Light (SnL) Dietary Supplement. This tandem is made of natural ingredients proven to help you get back in shape.
Here are the ingredients of Mejie Slimming Coffee and SnL Dietary Supplement and how they can control weight gain.
Mejie Slimming Coffee
You can start losing weight with your morning and afternoon sips of Mejie Slimming Coffee. It has L-Carnitine that can tighten and firm cellulite pores. Another ingredient of Mejie Slimming Coffee with potent slimming power is Garcinia Cambogia Extract because it suppresses appetite and slows down the body's ability to absorb fat leaving you with toned muscles. This wonder fruit can increase feelings of fullness so you won't crave for more food and won't easily get tempted to eat a lot. Meanwhile, the Green Tea of your Mejie Slimming Coffee cup can help elevate metabolic rate and help oxidize fats.
Slim n' Light (SnL) Dietary Supplement
If your metabolism is slow and you keep on eating, you need SnL Dietary Supplement. Weight gain makes you more susceptible to hypertension diabetes and heart disease. The first thing that SnL Dietary Supplement does is to suppress your uncontrollable appetite with Hoodia gordonii a succulent southern Africa plant. Additionally, it delays the time before hunger sets in. SnL Dietary Supplement also contains L-Carnitine which is effective in burning fats and Green Tea that speeds up metabolism. More importantly, SnL Dietary Supplement contains Glutathionewith N-acetylcysteine (NAC). Glutathione and NAC are not only powerful antioxidants but also ensure healthy liver function. A healthy liver means that your body burns more fats.
The active slimming benefits of Mejie Slimming Coffee and SnL Dietary Supplement have given hope to disheartened over weights that they can look their best again. No sweat!