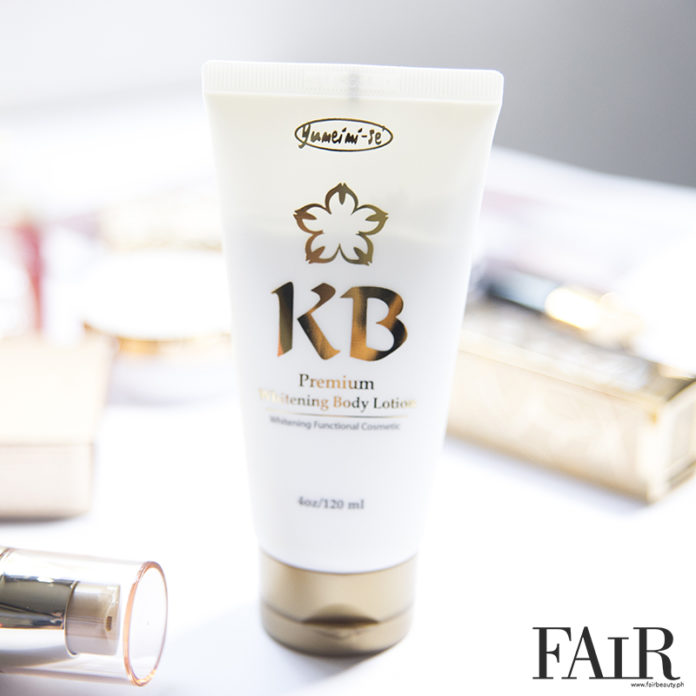 Having seductively fair, soft, and glowing skin is surely in the bucket list of every woman. Can a lotion give you all these?  KB Premium Whitening Lotion does! Itlocked in powerful ingredients so you can pamper your skin with rich skin moisture as it lightens, perfumes, and nourishes your skin. It's truly an all-in beauty bottle. With all its benefits, it's really more than what you paid for.
It's irresistibly scented but not over-powering and leaves the skin sweet-smelling for hours. Everywhere you go, you can confidently walk-in with your fresh and fragranced skin. With its blooming scent, there won't be a need for frequent spray of costly perfume. Its light creamy formula coats the skin with luxurious moisture that lasts the whole day but not sticky. Apply KB Premium Whitening Lotion in the morning and your skin will remain velvety at night. It's all because of the Shea butter it contains. Shea butter is a skin superfood that is naturally rich in vitamins A, E and F (or fatty acids). It offers UV protection and the nutrients necessary for collagen production.  Plant extracts in  KB Premium Whitening Lotion, on the other hand, work double time to nurture and protect the skin. Chamomile for example, contains flavonoids and antioxidants effective in shielding the skin against free radicals that cause aging while rosemary increases the skin's elasticity; therefore, decreasing sagginess and age spots. Camellia adds moisturizing boost to the skin while raspberries work like magic on wrinkles by protecting the skin against the sun rays. And to whiten the skin, pure strawberry and licorice root extracts widely known for their ability to give a fairer glow do the job.
Since K-beauty glow is the latest skin crave, KB Premium Whitening Lotion  completes the long list of its natural ingredients with lactobacillus and soybean ferment extract. Fermented skincare, a Korean skincare system, has the ability to reduce inflammation, maintain youthfulness and brighten the skin. With the perfect blend of nature and technology, KB Premium Whitening Lotion makes your skin fantasies come true, so grab one now at Watsons, Mercury Drugstore and other leading stores nationwide .