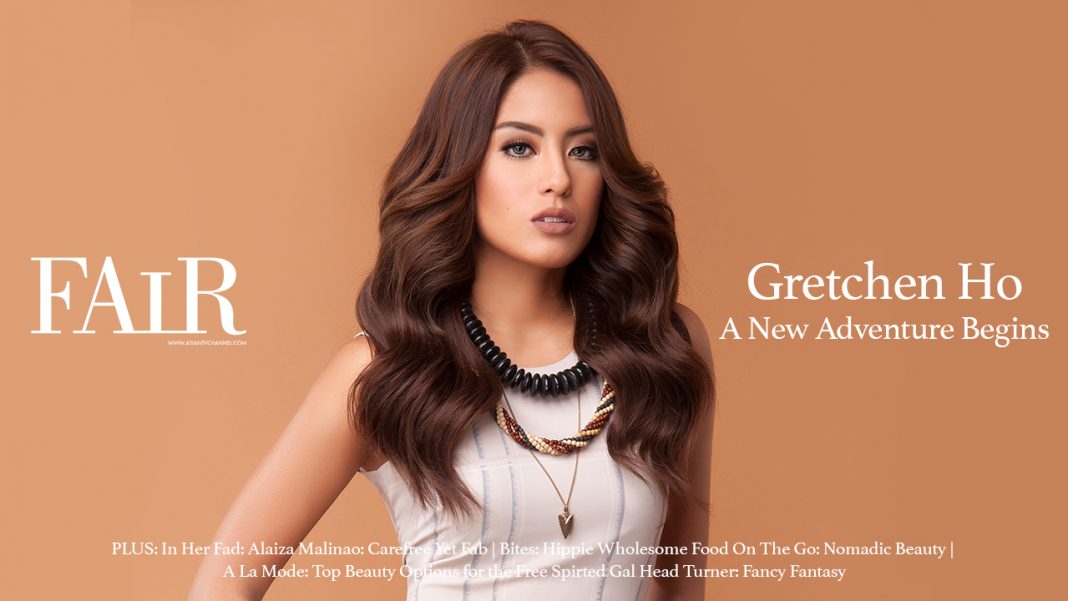 Words | Flor Leano
TRACING THE ACE IN GRETCHEN HO'S OFF-SPEED SUCCESS
Before the photoshoot started to roll, Gretchen Ho came in her usual big smile. She approached everyone with sincere aura of friendliness that draws people around her. She's like a ball that dropped and the players just went around her. In volleyball, they call it "campfire" effect but off- court, this simply means personal magnetism. When she's around, people can't help but to be around her to work or even just to chat. She's not that loquacious but really makes sense when she talks. With these sensible talks, she can inspire that is probably the reason she became a host. She is not edgy while working in her new turf but can be meticulous just to bring out the best in what she's doing. Athletes' careers usually end after the championship but for Gretchen, this was just the beginning of a better and brighter career.
Gretchen Ho's days on the UAAP volleyball court ended with an indelible mark but this volley belle offers more than her breath-taking feats. In fact, she stepped into the hosting limelight with a bang landing as one of the hosts of Umagang Kay Ganda and Lifestyle this year. Gretch recognizes the fact that volleyball has paved the way for her hosting career. But more importantly, she claimed that sports has helped her in building up her career on television by instilling in her
the "secret" success formula that includes the perfect blend and mix of hard work, discipline, consistency, open-mindedness, humility and the ability to turn failures into gold mines for learning. She said that the character she built over the years of competing on the volleyball court is the same character she brings right now to any workday, situation and opportunity. Thus, she approaches hosting the way an athlete would. She brings the metaphor of the raging ball into the camera lenses, the people around her consist the cheering crowd while the volleyball court has become the stage. But now, there is no longer an opponent to crash down with every spike as she considers herself as her only opponent.
Probably, volleyball spectators would ask how she became a host. The court used to be her turf and now she is up to test of the never-ending ratings battle on TV. "I developed my hosting skills by looking for my "pegs" in life or my inspirations in hosting. I think that's the first step so you would have a goal. Next is really watching myself on TV though most of the time it feels awkward. You have to live through it to know how else you can improve. I also ask for criticism from mentors and people whom I know will tell me the truth and who have the best interest at heart. To improve even more on hosting, you have to listen more, read more and always aim to know a little more each and every day. It takes years to build credibility and experience to build confidence so I just put myself out there and try to level up each time," she recounted. Looking at her educational attainment, however, one would no longer wonder how she became a host as she finished Bachelor of Arts Major in Communication in 2013 at the Ateneo de Manila and also got a degree in Management Engineering in 2012. These explain why she can execute ideas, facilitate, ask questions, and bring out good and real answers with visible ease.
As Gretch hums a whole new rhythm now, she appreciates the fact that her spectrum of knowledge has widened. "I feel like I've dedicated so many years to volleyball and that focus has kept me from exploring other things. Being a TV host has helped me learn more about different topics, fields, cultures, personalities, trends, histories, and stories. I realized that there is so much more for me to learn and that is what keeps me motivated at work each day," she said. The challenge now is not to keep the crown for her team but to perform well on stage. Before the spotlight focuses on her, she said that she prepares the best way possible. She isn't the type who will just read prompts. She takes time to read, research, immerse and ask questions. "I also have to rehearse my lines, visualize how I'm going to pull it off, and then come game time, be in the moment," she claimed.
Naturally bubbly and witty, she considers hosting fun as she's able to make people happy day in and day out. "My goal, especially for the morning show, is to be able to spread the joy to my viewers and make them feel happy to head on to their daily activities. I can also use my voice to speak out for those who are afraid to speak or those who are voiceless. It's a privilege to be able to influence people with what we do on TV. As a host, I also love learning about other people's stories. There's just a different experience every day and work is always exciting," she proudly described her job. With a coveted career that comes with perks and prestige, she doesn't take pride to step in the way and takes humility as her career compass. She thinks that humility means being open- minded to the opinions of other people and different possibilities, learning how to listen to constructive criticism, accepting her own flaws, always remembering where she came from and acknowledging the fact that she won't get here without the help of others.
Right now, acting is not really on the plate. But she is not closing her doors to it because she believes in the adage that "you can never say never". "I'm currently exploring where I really want to be. I love anchoring a morning show, hosting lifestyle show pageants, documentaries, and doing reports and features. At the end of the day, my goal is really to be able to bring out the best in myself and to serve the purpose that God laid out for me in this industry. I think this is where I can contribute more now," she firmly said.
Unfolding Gretchen's Beauty Secrets
The best skin care product for Gretch is the facial wash. "I don't think I can live without it. With everything that I do throughout the day, I feel like there's so much dirt that has already accumulated on my face. I have to start and end my day by washing with facial wash," she said. She also has grown fond of using lotion recently. She realized that prevention is better than cure and it's also easier to put on makeup when the skin is soft and hydrated. Sunblock is another beauty partner. " I play beach volleyball and I do a lot of reports outside, so I have to have sunblock with me," she said. Of all the makeup products, she likes the eyeliner the most because her eyes are small being a chinita. A quick sweep of the eyeliner will make her eyes look a little more awake and alive. She also loves using powder foundation because it's light on the face and covers up blemishes. The falsies also add glow into her eyes as they also make her eyes look bigger.
Stress is a part of the modern world and in the field she is into now, getting burned out is very likely. She got prayer as her best ally against stress. When things are rough, she goes to the chapel and spends quiet time with God where she seeks for help, guidance, enlightenment and grace. So she genuinely smiles and faces the world with confidence. She wraps up the long and tiring day with a plateful of her favorite food and a relaxing marathon of much-awaited TV series. Not bad and affordable indeed. She has just finished Time Keeper by Malcolm Gladwell and regularly updates herself through on-line reading to prepare for hosting and to get entertained as well. During her free time, she works out to keep her sanity and for her to stay fit and active. She runs a lot, mostly outdoors and goes to the gym to do weights and strengthening. Whenever she's free, she goes out to watch
movies and to reconnect with her loved ones.
Truly when a chapter ends, a new one unfolds. With the lessons of the past, one can expect brighter things to come. Gretchen picked up the character, the drive and the humility of the court and now her career is blossoming and people can't ignore the fact that the volley belle conquered another horizon where she will, as always, claim victory.
PHOTOGRAPHY: ARI SIMANGAN
MAKE-UP: RB CHANCO
STYLIST:ALFY ALMONTÉ
HAIR STYLIST:IWA AJINOMOTO