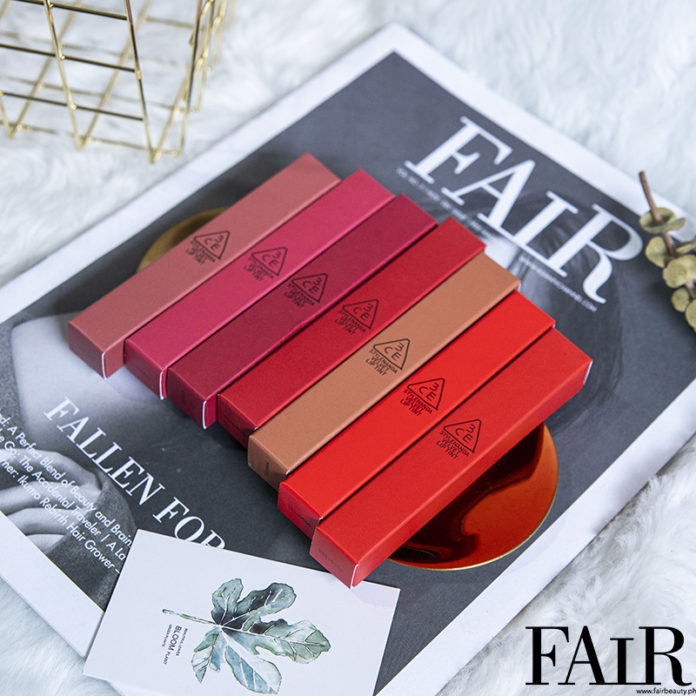 BY | FLOR LEANO
In every smile, pout, or grin, flaunt the beauty of your lips with 3CE Velvet Lip Tint. Glide after glide of this velvety-soft tint leaves a flattering hint of freshly-picked flowers, luscious but not overpowering. Every application comes with a lip-nourishing blend and ends with a long-lasting powdery matte but won't leave the lips dry or cracking.
3CE Velvet Lip Tint contains Tocopheryl acetate or Vitamin E to keep the lips soft and moisturized. This vitamin is also an antioxidant so it can aid in protecting the lips from free radicals that contribute to cell damage and aging. In addition, Vitamin E is believed to be an ideal UV shield. It also contains Helianthus Annuus (sunflower) seed oil to nurture the lips by reducing​ moisture loss from the skin surface, thus improving overall hydration. Rosa canina (rosehip) fruit extract is in ​3CE Velvet Lip Tint, too. Rosehips ​fruit extract contains a wealth of essential fatty acids, including linoleic and linolenic acid. Fatty acids help to keep cell walls strong so that they don't lose water and hydrate dry lips. Meanwhile, the ​anti-inflammatory properties of the Rose​ ​extract in this Korean lip tint has calming and healing abilities that aid in minimizing redness and in soothing irritation.
Contour your lips easily with any of the ten shades of 3CE Velvet Lip Tint. This can also be the best pick if you're up to have the Korean gradient lips.