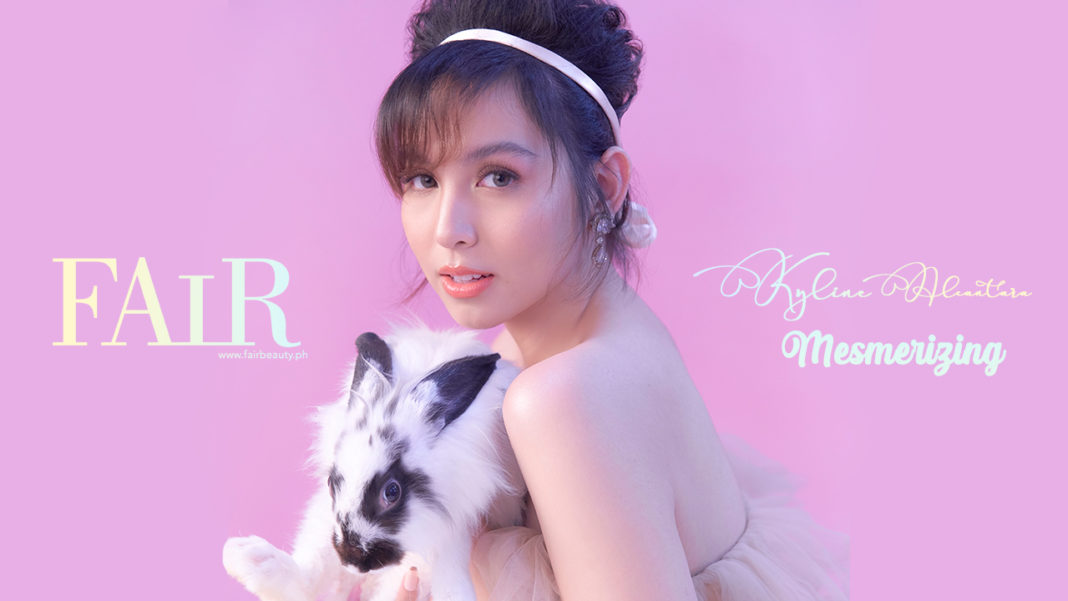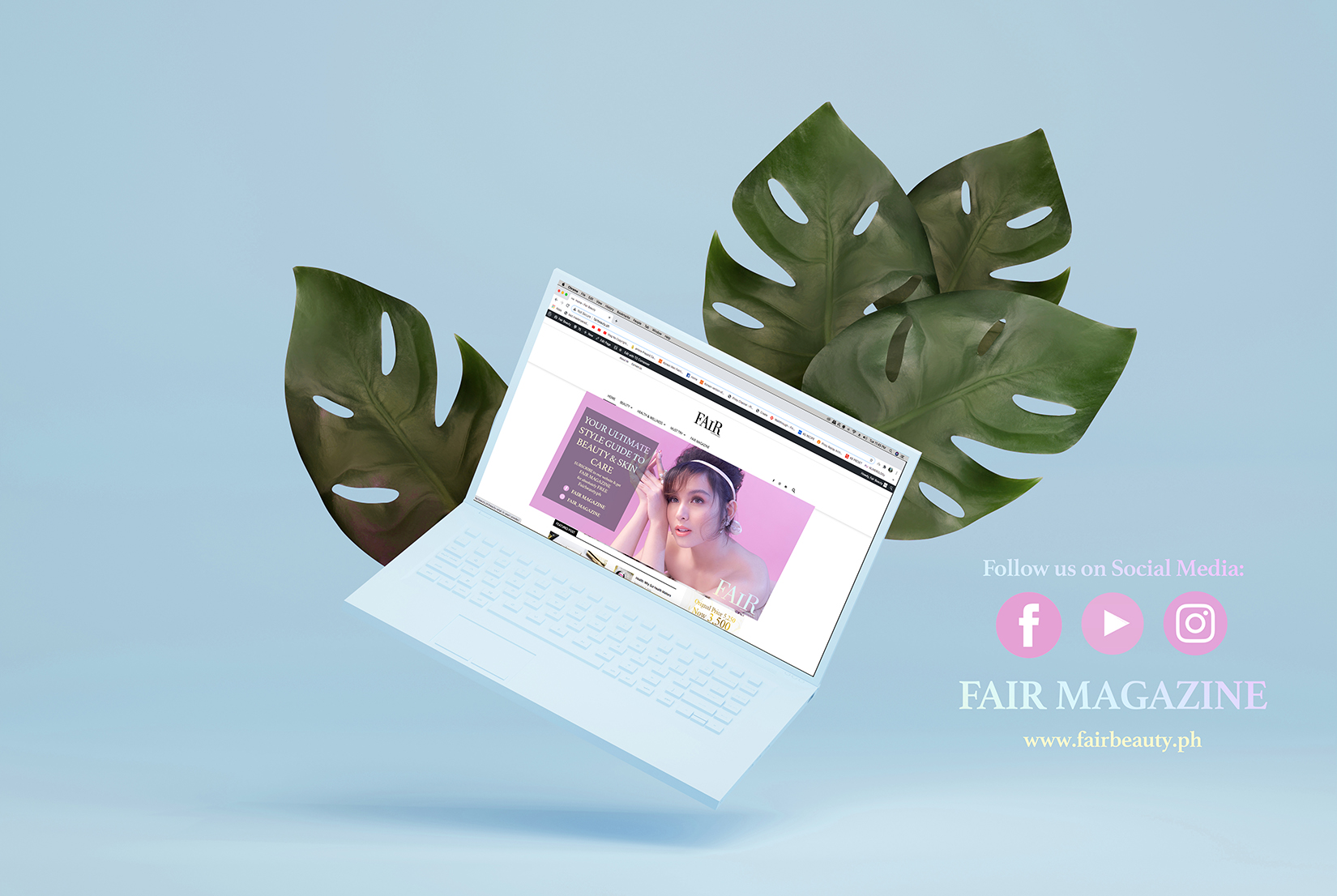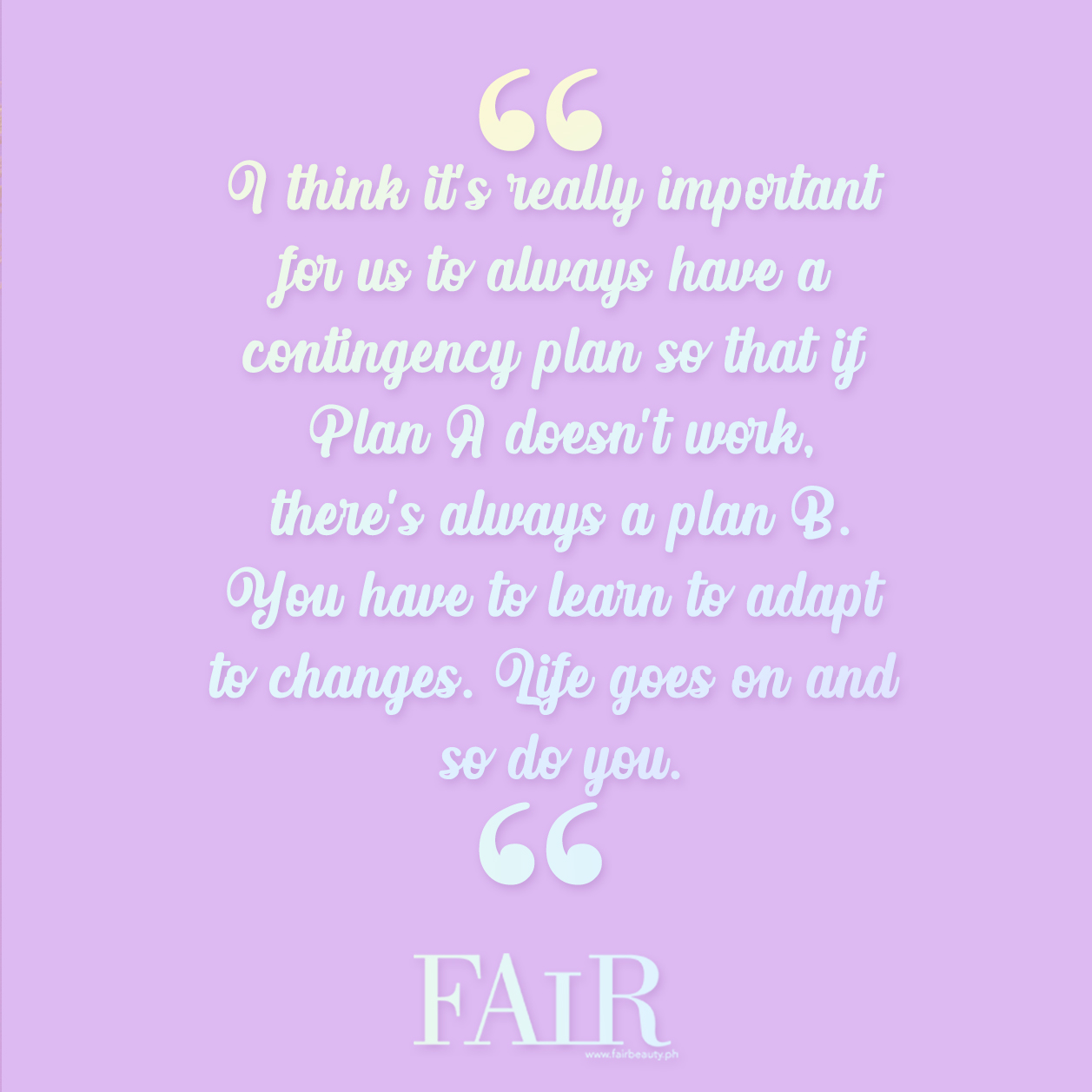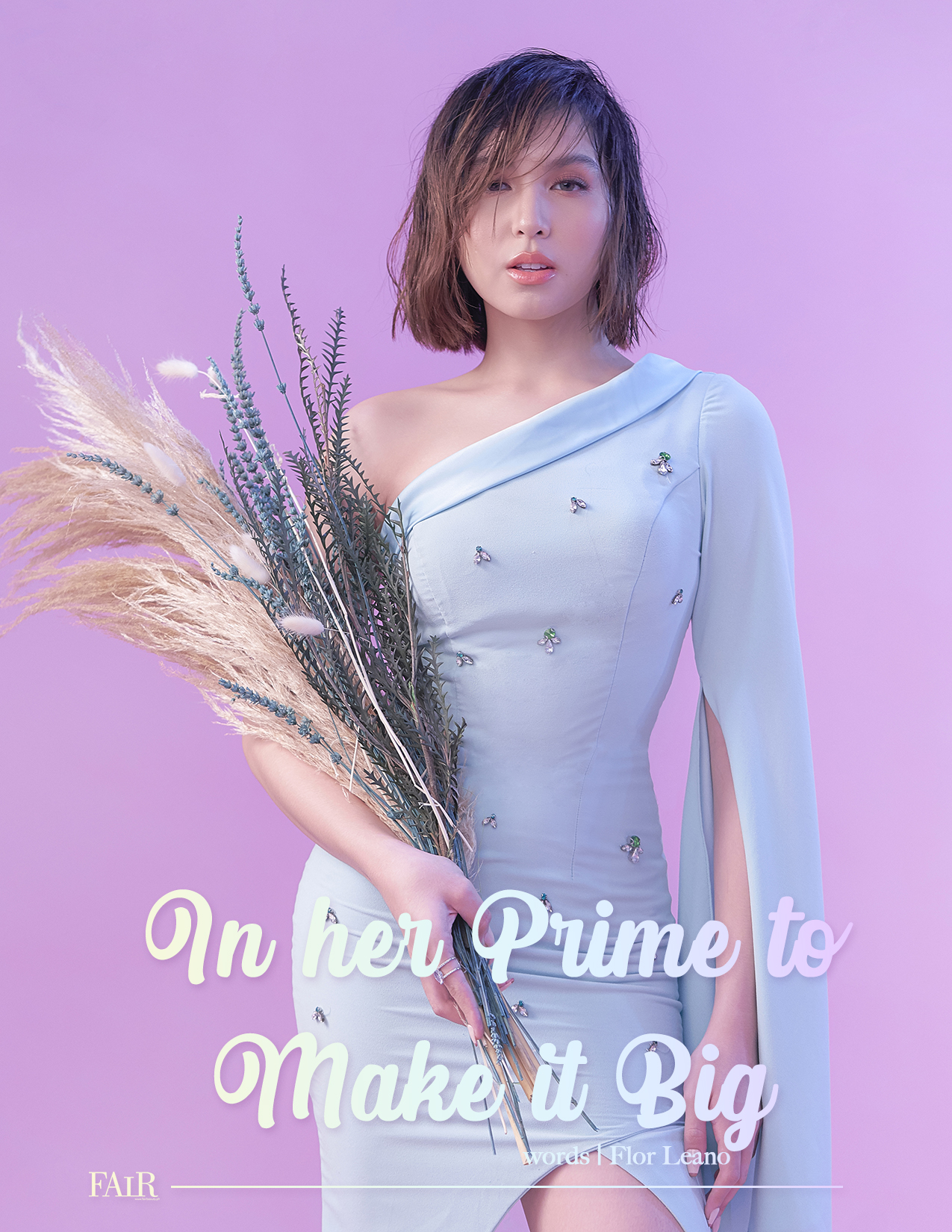 Wardrobe: One-shoulder dress with stone embellishments and high-slit detail, SHEILA DEL ROSARIO; picked flowers, TEDDY MANUEL
The spotlight is on for the multi-talented Kapuso Star Kyline Alcantara who has just recently turned 18 with a simple yet meaningful celebration. She's really excited to make a fresh start now that she's all geared up for the greater challenges in her career. She surprised everyone when she rose to fame for her antagonistic roles, so no doubt, this actress can dream higher and shine even brighter.
Although she's all glammed up to face the new chapter in her life, she thinks that it would be fine to take the past 17 years in her life as a reference. "Looking back, the past 17 years of my life made me realize that dreams do come true. Before, I never thought that I would celebrate my 18th birthday being part of the showbiz industry. I just dreamed of being an actress – tried to work on it, pursued it, and achieved it. I know I am still far from the peak of success, but I'm a work in progress," she shares. As Kyline is ushered into the adult world, she feels that people will expect more from her so she feels that she has to be more responsible with all of her actions. For now, she explains that being a responsible citizen is her best contribution to the country because this can go a long way.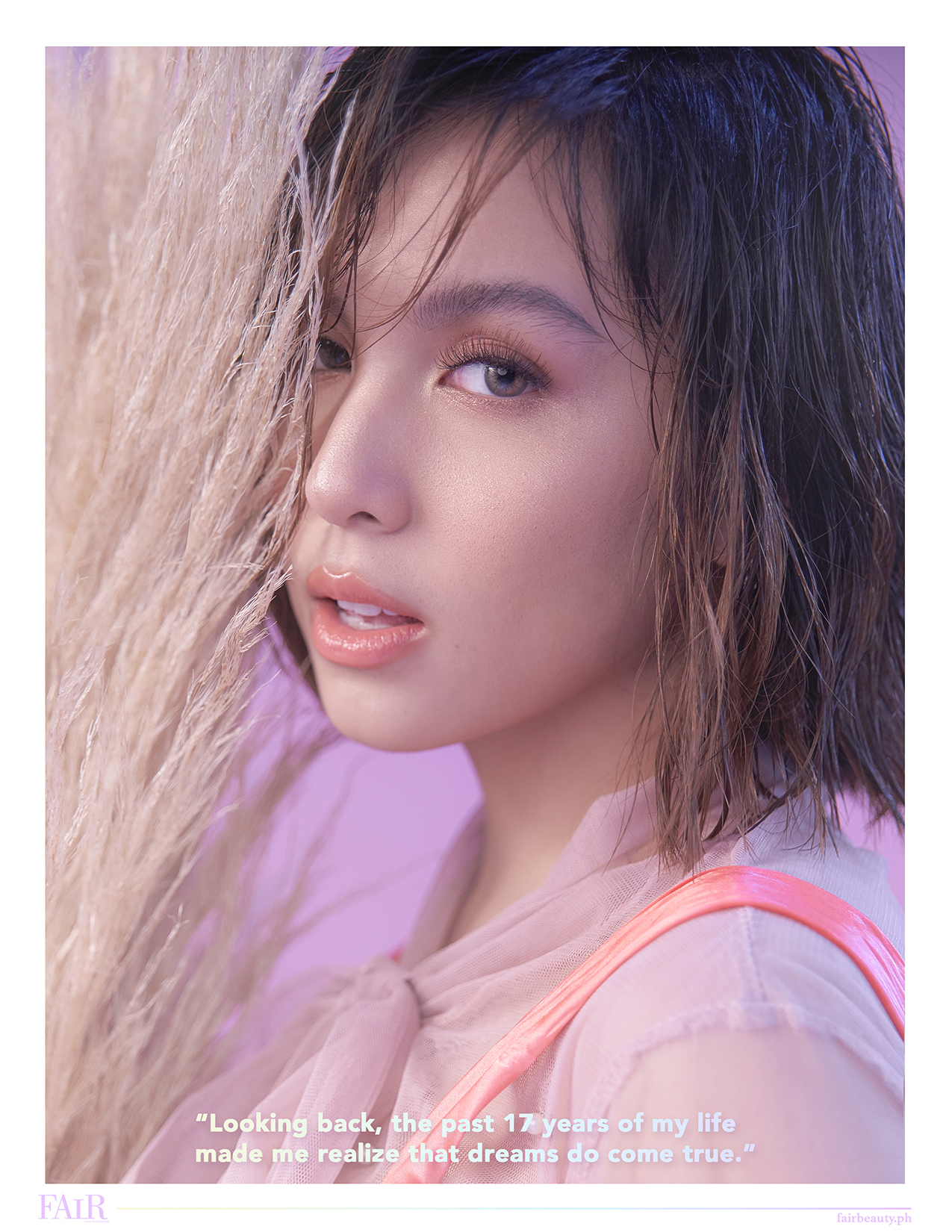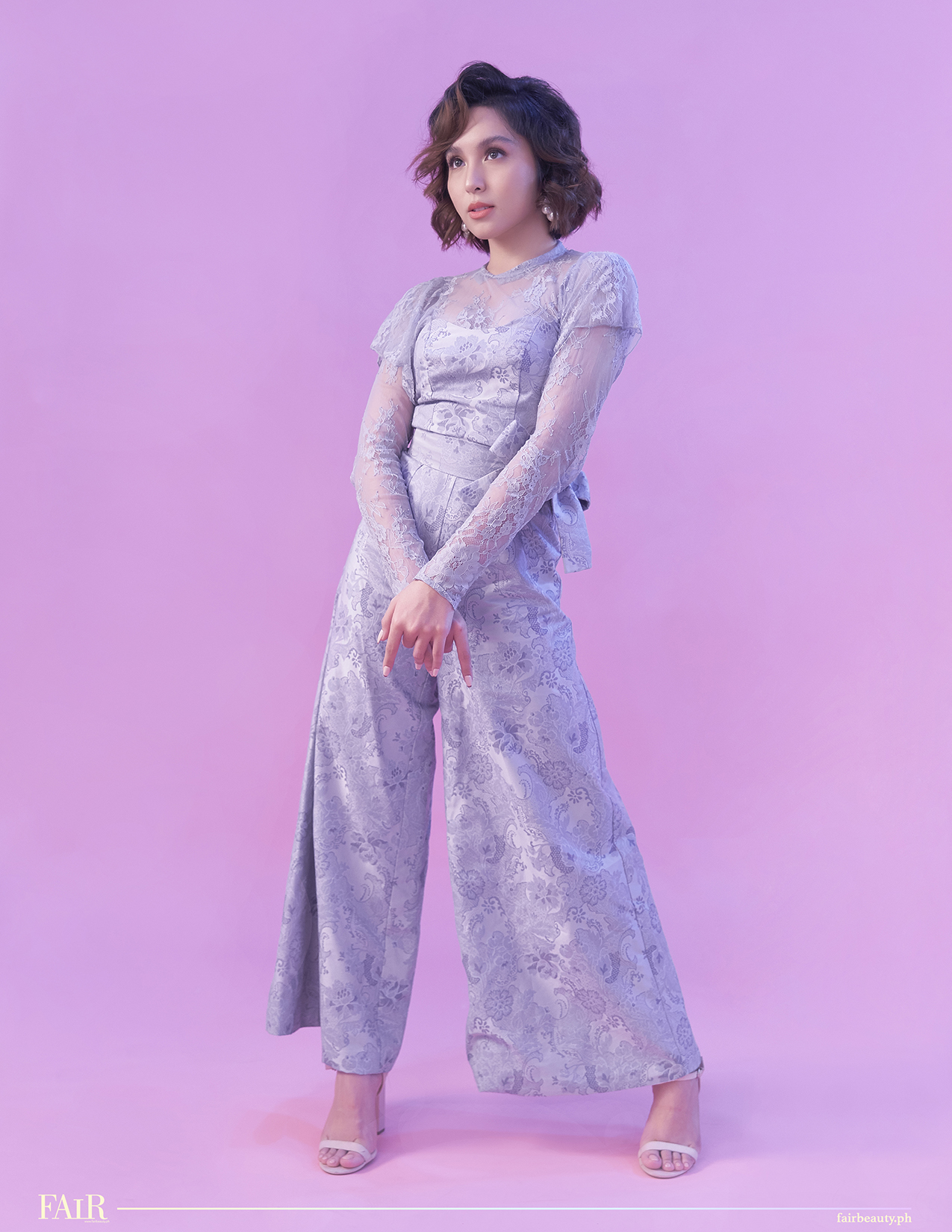 Wardrobe: Coral silk dress in drape top and ruffled skirt, CARL ARCUSA, Bustier Jacquard Jumpsuit with belt, MARIE RODEO
This is also the perfect time to thank all the people who helped her reach her dreams. "There were a lot of people who helped me throughout my career. I cannot name them one-by-one but I'm sure that they know who they are and how much I am grateful to them. And of course, I feel that I am and will always be indebted to my parents and to God forever. My parents for their undying support and trust in my capabilities and to God, because of His gifts and guidance on my journey. His timing is always perfect, never doubt that. Never," she stresses.
Everywhere she goes, Kyline instantly charms everyone with her sweet smile and vibrant personality. She has also navigated different avenues to show how talented she is. She launched her self-titled album and regularly heats up the stage of Studio 7. On which area she'll focus on this time remains in the limbo because of the unexpected things that are happening right now. "I just really try to do the things that I want. I try to live in every moment – seize and give my 100% in every opportunity that is given to me. Nothing is certain, and we're lucky if we would still make it tomorrow. One can only pray that this will all be gone and so we can go back to the way things were," she says.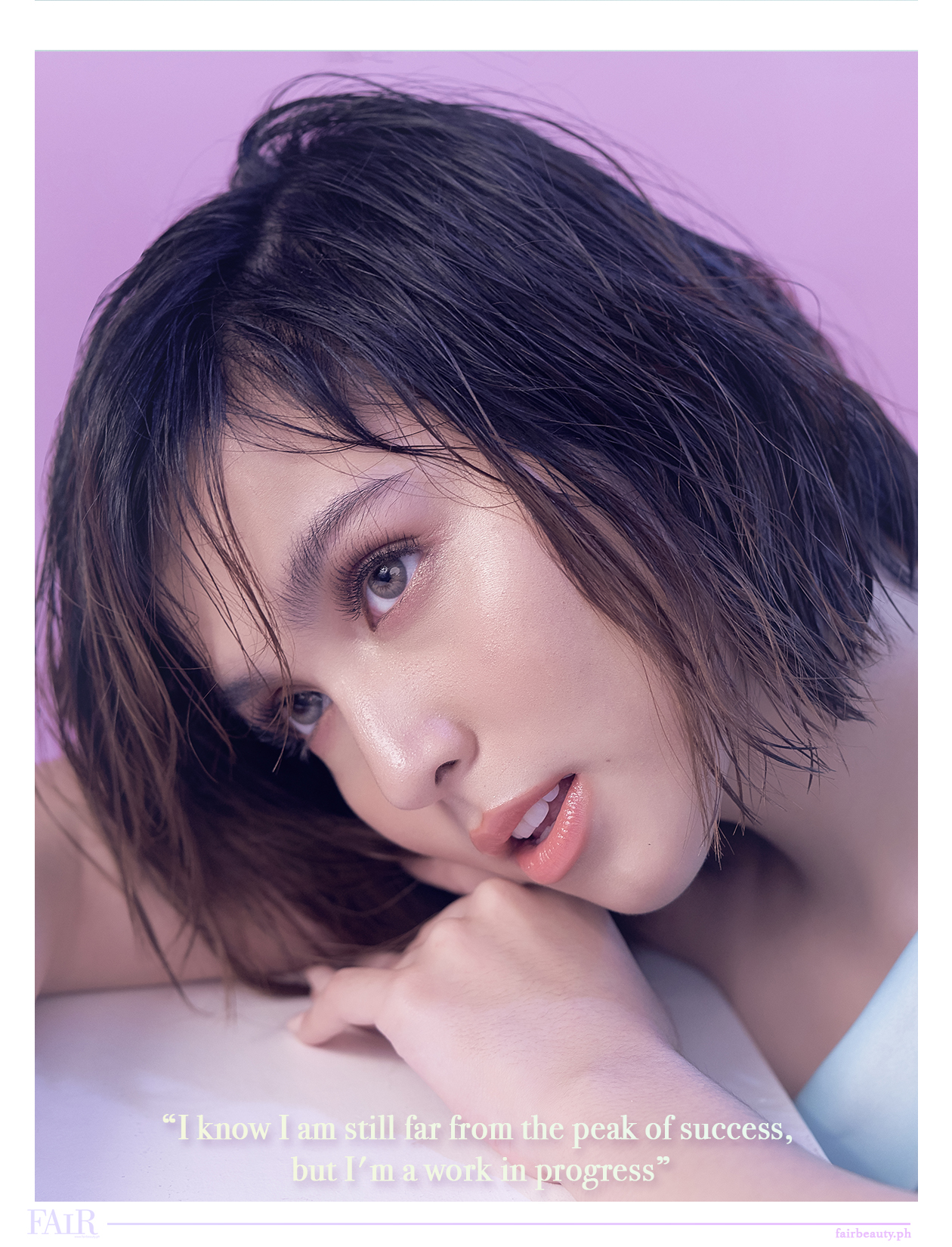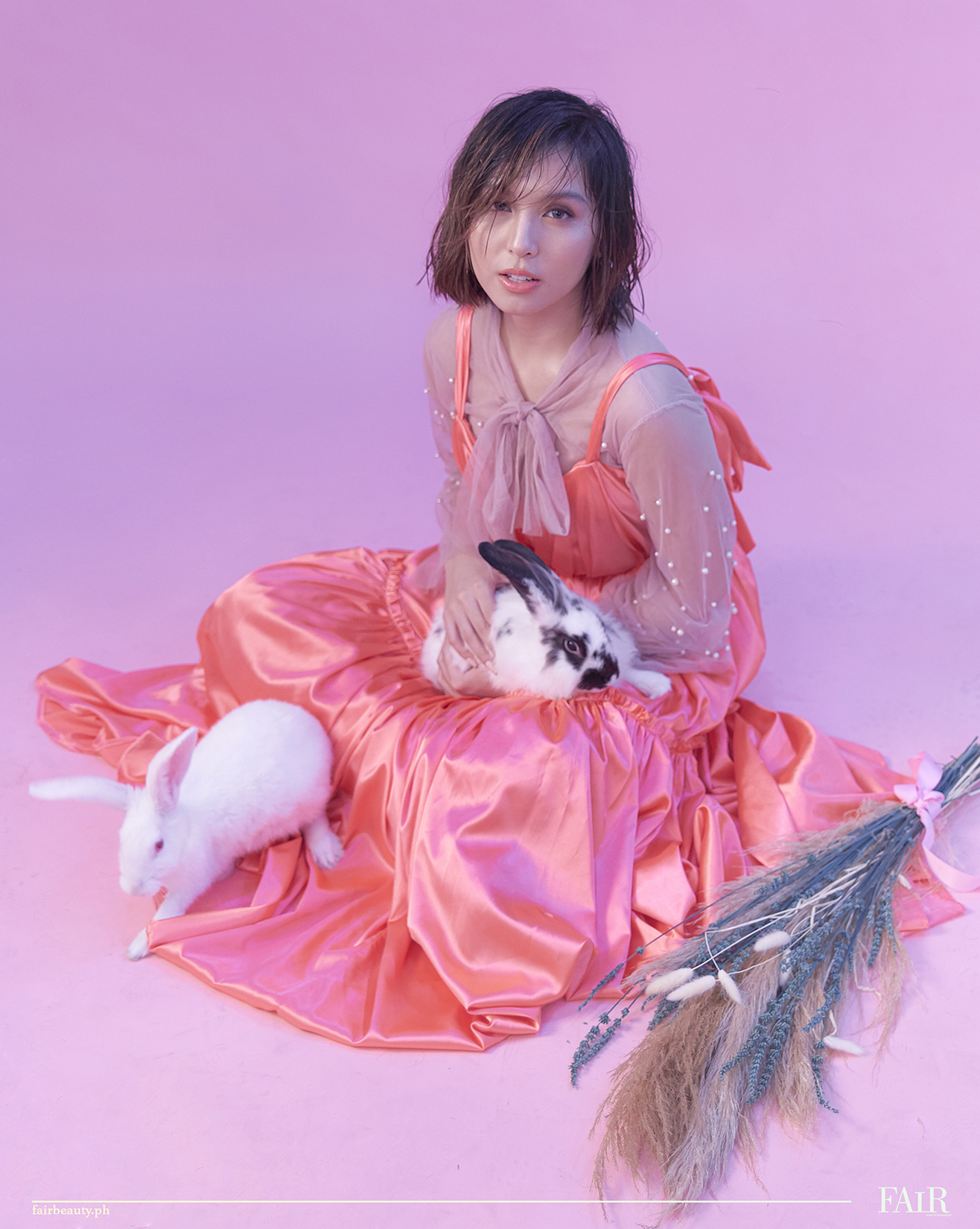 Wardrobe: Coral silk dress in drape top and ruffled skirt, CARL ARCUSA; picked flowers, TEDDY MANUEL; Special Thanks to JL RABBITRY
As for the unexpected twist that all of us are into now, she profoundly explains that it is proof that we don't have control over what's happening in this world. Things won't always go as planned no matter how much you prepared or worked hard for. Here are some more of her thoughts about living in the pandemic time: "I think it's really important for us to always have a contingency plan so that if Plan A doesn't work, there's always a plan B. You have to learn to adapt to changes. Life goes on and so do you. Always try to explore new things and apply the lessons that you've learned in your life. Lastly, live in the moment. Always do the things that you want. Talk to people and tell them how much they mean to you because life is short and tomorrow is never promised, so make each day as memorable as you can."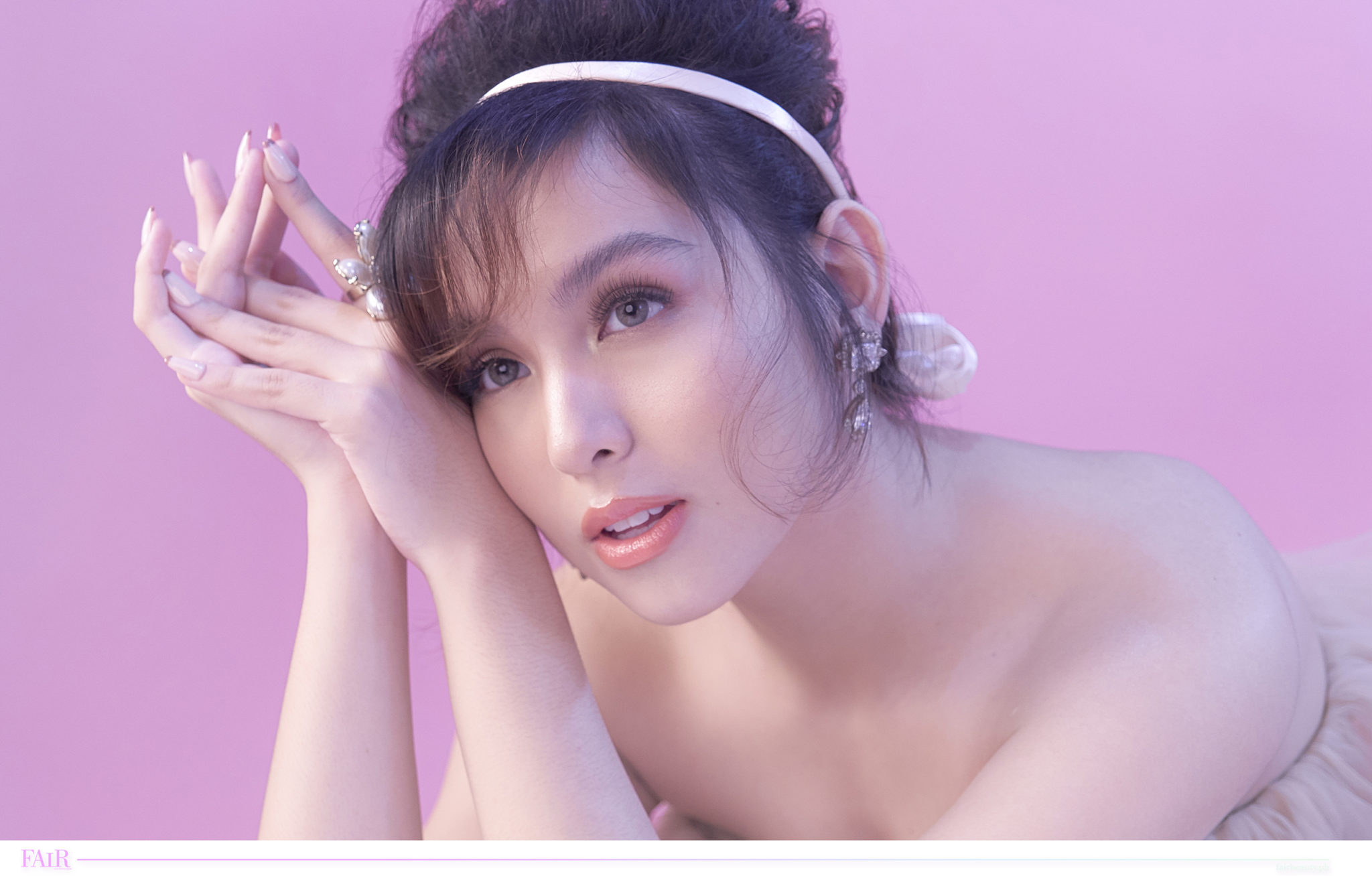 Wardrobe: Tube serpentina dress with asymmetrical mini layers of nude tulle, JUAN PAOLO; Two-tier sparklers, EM MARIANO Special Thanks to JL RABBITRY
No doubt, Kyline is one of the prettiest among Kapuso artists but vanity isn't her thing. In fact, she isn't afraid to indulge in her bite favorites. She believes that one shouldn't get on a diet craze and never give self-deprivation a whirl to be slim or fit. Instead of dieting, she promotes responsible eating. "I am really not on a diet every time. I love my food and I enjoy it a lot. I always try to be a responsible eater, especially if I have projects or shoots that will need a fit body. Take that bite of donut or pizza, and burn those calories by exercising or running," she quips.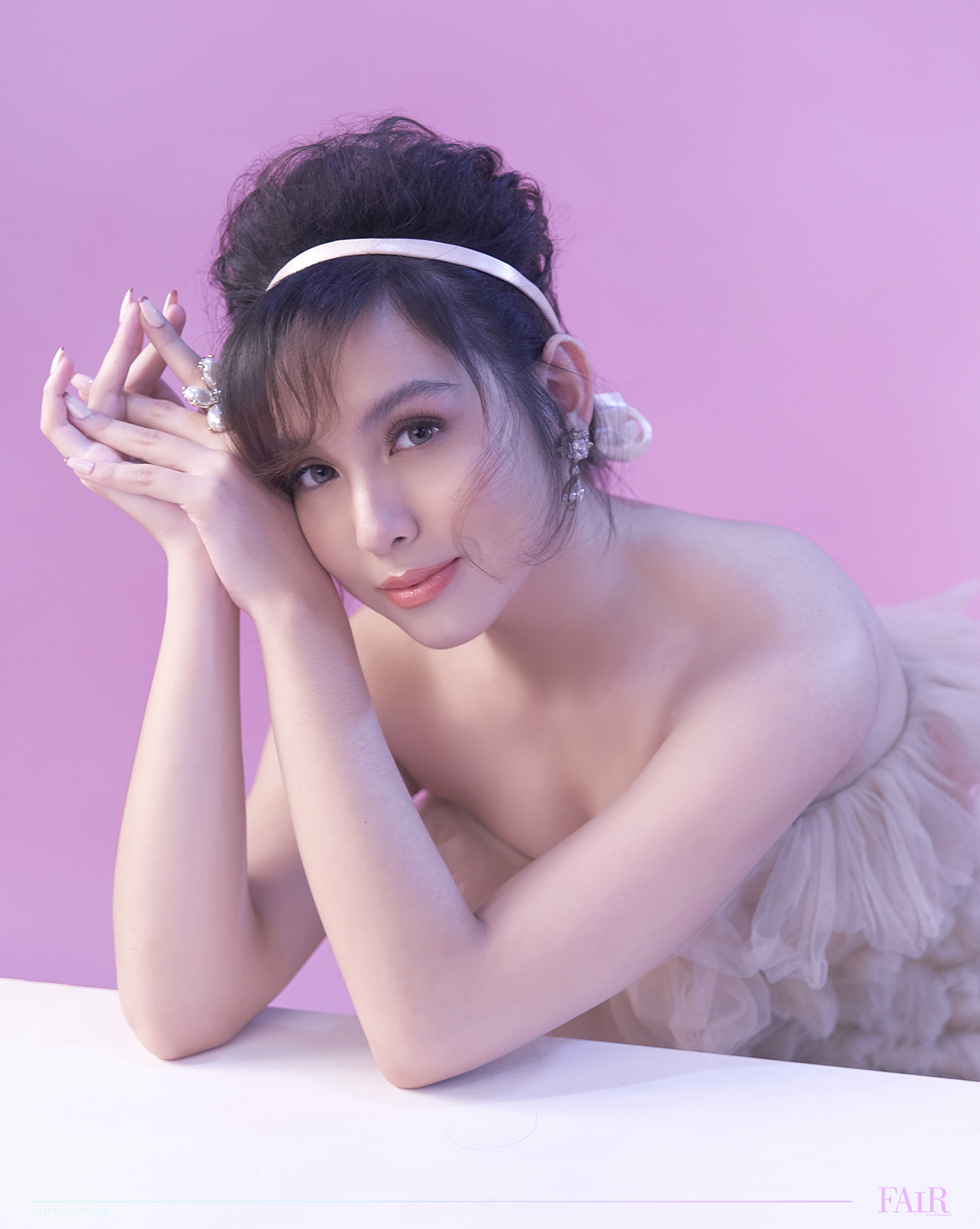 Wardrobe: Tube serpentina dress with asymmetrical mini layers of nude tulle, JUAN PAOLO; Two-tier sparklers, EM MARIANO
While in the pandemic, Kyline has been into home workouts since people can't go to the gym yet. She recommends having a fitness routine at home, too. "You can follow some videos on YouTube or just simply run in your yard or in your area if it's allowed but don't forget your safety. Always wear your face masks and shields whenever possible," she further suggests. As for her go-to makeup top-pick, she considers that lip gloss and blush will take one a long way and thinks of them as Zoom meeting must-haves. Her skin, on the other hand, is hydrated by water. So her beauty advice is: "Always drink a lot of water."
Like the sunflower in bloom, Kyline is in the prime of her life. She has the passion to make it really big and the network to back her up. Indeed, everyone is thrilled about the things she'll try next and the good things in store for her.  
Cover | Kyline Alcantara
Cover Story | Flor Leano
Photographer | Edward Keeler
Makeup | Nikki Duque
Hair Stylist | Mark Rosales
Stylist | Janno Novenario
Styling Associate | Renz Allapitan
Video | JC Palma
Assistant Photographer | Arvin Maglalang
Executive Assistant | Quincy Quisumbing
Creative Director | Raymond Granale

Special Thanks to Molly Lasic, Chester Jan Singian, Teddy Manuel, GMA ARTIST CENTER & JL Rabbitry
#KylinexFairMagazine