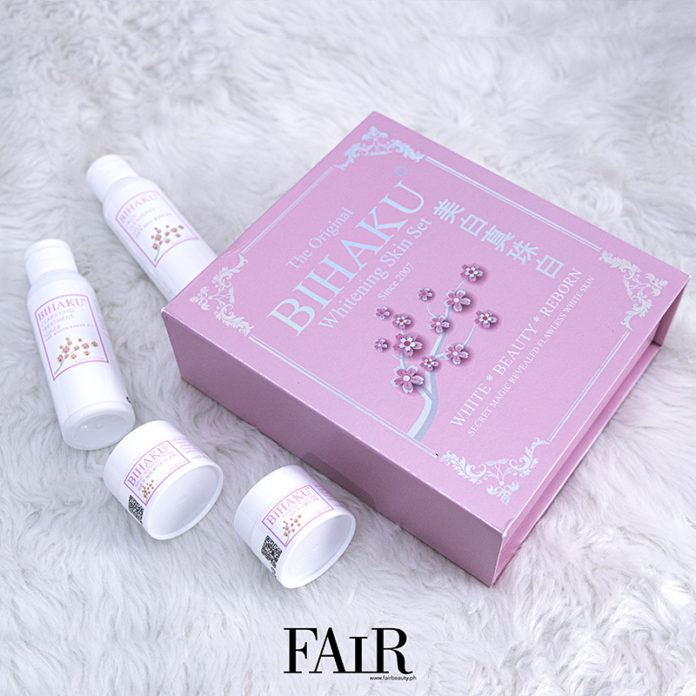 By | Flor Leano
Bihaku Whitening Skin Set has nourishing skincare formula to help make your skin beautifully white. It has the choice ingredients to revitalize your skin so you can look even better than in your prime years. Follow these simple steps regularly with Bihaku Whitening Skin Set and you'll soon see a huge difference in your face.
Step 1: Bihaku Face Cleansing Milk
Wash off makeup, dirt, oil, and impurities from your skin with Bihaku Face Cleansing Milk. It thoroughly exfoliates dead skin cells yet it is gentle and nourishing because it is milk. After washing, you'll feel that your skin feels hydrated, soft, and supple.
Step 2: Bihaku Clarifying Toner
After cleansing, use Bihaku Clarifying Toner with AHA and BHA to maintain the skin's optimal pH level for softer, brighter and instantly refreshed skin. It also helps in preventing whiteheads and blackheads. Bihaku Clarifying Tone​r combines Jeju Mineral Water and AHA/BHA ingredients to aid in skin exfoliation and reveal a smoother complexion.
Step 3: Bihaku Whitening Cream
The next step to fairer and more glowing skin is Bihaku Whitening Cream. It contains Alpha arbutin, a natural ingredient from the bearberry plant. Alpha arbutin is a powerful antioxidant and has skin-brightening properties. It can also even out the skin tone and lessen the appearance of acne scars.
Step 4: Bihaku Sunblock Cream (for daytime use)
During the day, use Bihaku Sunblock Cream that does more than protecting the skin from the sun. It has niacinamide that prevents hyperpigmentation and increases skin elasticity and Centella asiatica to stimulate new cell growth. It can hydrate the skin and stimulate collagen for firmer skin, too.