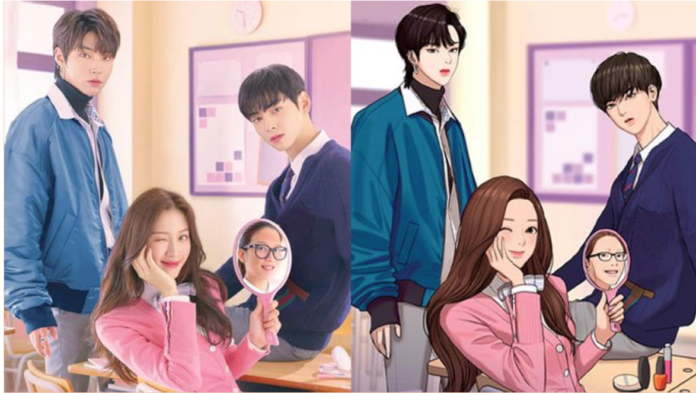 By Kristina Dabi
Cliché as it seems but watching a show about two gorgeous guys fall in love with a relatable female character is our guilty pleasure. It is a show that guarantees to make our hearts flutter. Interestingly, "True Beauty", one of the hottest k-drama currently on-air has this kind of plot. This k-drama is based on a webtoon of the same title. Starring Moon Ga-young as Im Ju-gyeong, Cha Eun-woo as Lee Su-ho, and Hwang In-yeop as Han Seo-jun, we cannot help but be swoon at the beauty of these lead characters. This high school-theme drama not only delivers youthful and positive vibes but also depicts the struggles that a high school student can possibly experience. So, it's not surprising we can learn a thing or two from this show. With that, let's focus on the two empowering messages that this k-drama sends to women.
1. "Make-up will truly enhance your beauty."
Everyone can agree that this is the main message of the show. However, it is sad that our beloved character Im Ju-gyeong discover the power of make-up after she was bullied due to her looks. Now that her beauty was enhanced, what breaks our heart is Ju-gyeong's fear of being caught without make-up. Thus, we cannot help but be proud of Ju-gyeong as she begins to own her make-up skills. As this show progresses, let us look forward for Ju-gyeong to overcome her fear and for her to gain a better insight about her physical appearance. On a side note, if your curious about what specific make-up line does our beloved heroine uses, it is Cologram. You can check their products and try it yourself!
2. Women can make the first move in a romantic relationship.
Surprisingly, this show is bending gender norms. Ju-gyeong's older sister, Im Hee-kyung captivates us with her strong-independent woman character. She needs no man to change the flat tire of a car. But the most loveable thing about this cool lady is that she does not shy away from her feelings. When she saw Ju-gyeong's homeroom teacher, Oh Eui-shik, she felt attracted to him at first sight. Throughout the aired episodes, Im Hee-kyung takes charge of her expressing her feelings to Oh Eui-shik. She was the first one to makes the first move, the one who confesses her feelings first, and even the one who sends a bouquet of flowers to him. This just means that women need not wait for men to show their interest first and passively wait for nothing!
True Beauty truly lives up to the standard of a k-drama with good entertainment and where life lessons can be learned. Even the storyline of the supporting characters in this show is as great as the main ones. You can catch True Beauty every Thursday and Friday in Viu.