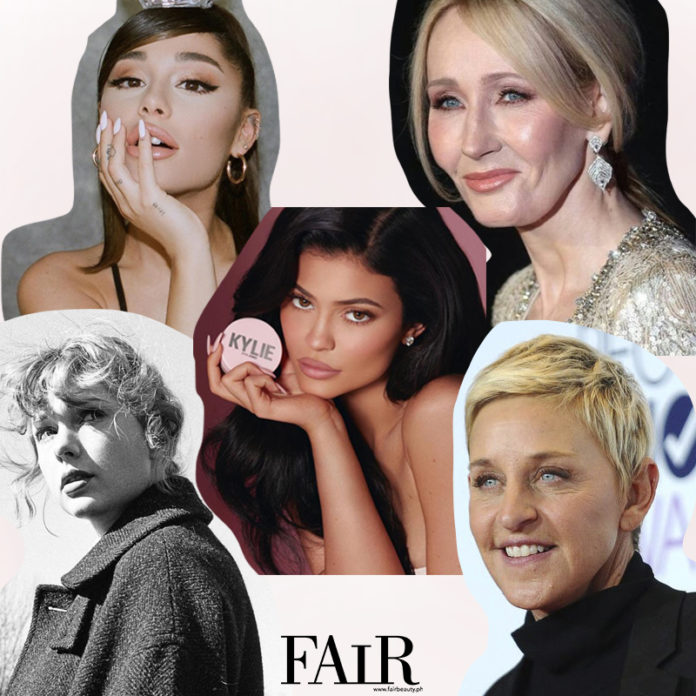 By: Kristina Dabi
Forbes has just released its list of 100 highest-paid global celebrities. This year, ten female personalities have made it on the list. These strong, beautiful, and wonderful ladies with varied professions and advocacies serve as inspiration for every woman out there.
Kylie Jenner
23-year-old Kylie Jenner ranks number one on the Forbes list of 100 this year. Rose to fame from the TV reality show "Keeping up With the Kardashians". She has launched her own make-up line "Kylie Cosmetics" which has been a huge success in just five years after its first release. This year, it is estimated that Kylie had earned $590 million.
Ellen Degeneres
Out and proud stand-up comedian and host of her own sitcom, Ellen Degeneres is estimated to have earned $84 million this year. Ellen plays an active role in advocating LGBTQIA+ rights since her coming out as gay in 1997. She is truly inspirational for using her voice for a good cause.
Ariana Grande
Ariana Grande is the highest-paid female musician on this list. She is estimated to have earned $72 million. Her two latest music videos "Positions" and  "34+35″ earned millions of YouTube views. If you can't get enough of this queen, marked your calendar this coming December 21 as Netflix will release a film titled "excuse me, I love you". It is a documentary that captures Ariana's "Sweetener Tour".
Taylor Swift
2020 may not be the best year, but the music industry this year is flourishing.  Singer and songwriter Taylor Swift is estimated to have earned $63.5 million this year. After her unexpected release of "Folklore" album in July 2020, Taylor Swift again surprised her fans with another masterpiece album titled "Evermore" this December 2020.
J.K. Rowling
J.K. Rowling, author of the Harry Potter series is estimated to have earned $60 million this year. J.K. has released a new book for children last month titled "The Ickabog".
Billie Eilish
18-year-old Billie Eilish is estimated to have earned $53 million. She is the youngest personality who made it to Forbes 100 List of Celebrity. Her unique music style has won her five Grammy awards this 2020.
Kim Kardashian West
Another Kardashian secured a spot in Forbes Top 100 Celebrities. Kim Kardashian West is estimated to have earned $49.5 million. This lady has explored varied platforms from reality TV, cosmetics, and clothing.
Judy Sheindlin
The show "Judge Judy" may be ending its production in 2021, but fans need not worry because the Famous American celebrity-lawyer Judy Sheindlin will be moving on to Amazon's digital platform. It is estimated that Judge Judy has earned $49 million this year.
Jennifer Lopez
51-year-old multi-talented celebrity with youthful skin, Jennifer Lopez is estimated to have earned $47.5 million this year.  If you want to keep your skin as youthful as J.Lo, mark your calendar as eight skin-care products of "JLo Beauty" will be available starting January 1, 2021.
P!nk
Singer-songwriter P!nk also secure her spot this year on 2020's celebrity with the highest-earning. It is estimated that P!nk has earned $47 million. Her recent activities include her adorable duet with her daughter Willow in "The Disney Holiday Singalong", and a cover of "A Million Dreams" with Ndlovu Youth Choir in the 2020 UNICEF Changemaker virtual event.