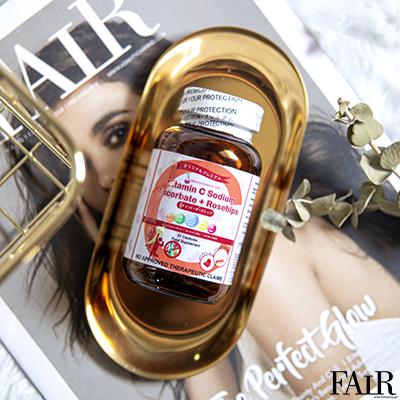 BY | Flor Leano
The recent events made everyone realize that investing in health is worth it. All our investments will go down the drain if we get sick while seeing our loved ones getting sick and having treatments can be traumatizing. That is why Vitamin C supplementation is even more essential nowadays. And it is even better if it is the kind of Sodium Ascorbate found in iBeauty Science Lab Vitamin C Sodium Ascorbate + Rosehips because it may be less irritating than pure ascorbic acid. For this reason, it fits those people who have trouble digesting acidic substances.
Vitamin C Sodium Ascorbate supports a healthy immune system. A study shows that Vitamin C appears to help shorten the duration of a cold and reduce the severity of its symptoms. As a major antioxidant, it helps in protecting cells and tissues from free radical damage that can later cause health problems. And for those who are starting to show signs of aging, Vitamin C can be the answer because it plays a key role in the formation of collagen which is essential for the maintenance of healthy cartilage. This will eventually help in reducing joint pains. At the same time, collagen can make the skin firm and reduce the appearance of fine lines. Vitamin C Sodium Ascorbate could also aid in normalizing stress hormone levels for a healthier stress response.
Additionally, this food supplement has Rosehips which is a part of the fruit that grows on the blossom of a wild rose called Rosa canina found mostly in Europe and parts of Africa and Asia. Rosehips, which have more vitamin C than citrus fruits, are packed with Vitamin C, E, and B, and othe antioxidants and minerals. They also contain a substance that fights inflammation. In 2015, Akifumi Nagamoto and other Japanese scientists found out that Rosehips can help people reduce abdominal fats, abdominal visceral fats, and body weight. Taking Rosehips may also boost heart health as it can help in maintaining blood pressure and cholesterol levels.
iBeauty Science Lab Vitamin C Sodium Ascorbate + Rosehips is in pharmaceutical-grade brown glass bottle to protect the quality of the product since Vitamin C is very sensitive to sunlight.