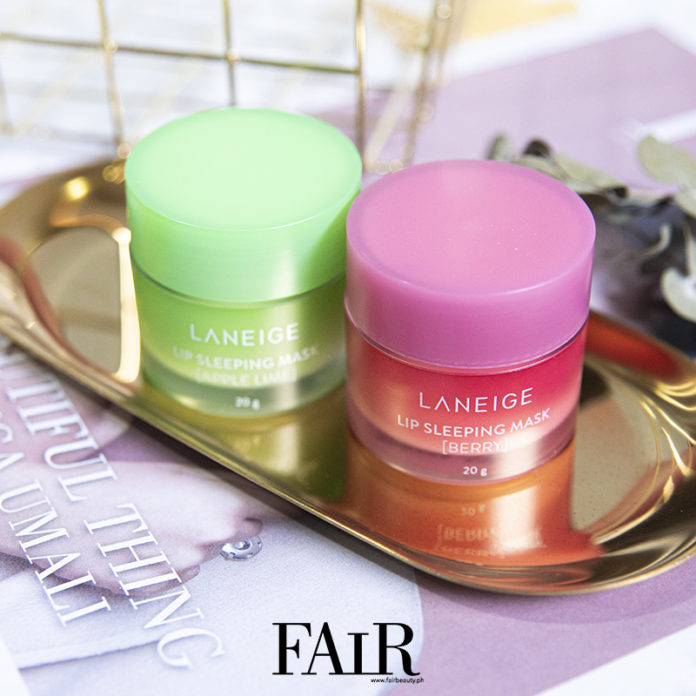 Weather conditions such as biting cold and extreme heat can zap out the moisture in the lips. This can get worse if we love spicy, salty, and acidic food and drinks because they make lips even become drier. Concealing dryness and chapping with lippies will not be the perfect remedy as they can make lip problems more obvious. That is why Laneige Lip Sleeping Mask is a must if you want to have hydrated, soft, and plump lips.
Laneige Lip Sleeping Mask has the nutritiously sweet Berry Mix ​ComplexTM​ and infused with real fruit extracts like ​Lycium, Cranberry, Strawberry, Raspberry, Sapindus mukurossi (Indian soapberry), and Blueberry​. These fruit blends come with Vitamin C and antioxidants to neutralize free radicals to soothe dry and irritated lips. It also contains ​Coffee Arabica Seed Extract that can moisturize lips and gives your lips a healthy glow. Coffee extract contains large amounts of essential fatty acids which help keep your lips firm.​ ​Its exclusive Moisture WrapTM technology boasts Sodium Hyaluronate and minerals to form a protective film over the lips to lock in moisture and help revitalize the natural beauty of your lips. Coating your lips with Laneige Lip Sleeping Mask ​before bedtime helps reduce flakiness so you can wake up to lips that feel supple and soft.
This lip care regimen has an invigorating smell with different variants like ​berry, vanilla, grapefruit, and apple lime. It does not contain any harsh chemicals like parabens and phthalates.​ ​It is dermatologist-tested and recommended for all skin types. To use Laneige Lip Sleeping Mask, scoop it using the applicator then apply it generously to the lips in the evening and leave on overnight. Gently wipe it off or cleanse it in the morning.